Saturday mornings...
With Tony having a wacky schedule with the only constant being he doesn't have a Saturday off and our kids being homeschooled with Saturdays being a sometimes school day, Saturday doesn't really hold the same magic in our household as it does in some.
Still some, like today, remind me why saturday is such a marvelous day to normal families.
We started out with easter bunny and eggs colored pancakes with whipped cream. Directly after, Ella headed to the play room and returned the favor and started bringing out courses of plastic food, starting with tea and sugar. She wants to be a chef.
She kept informing me there was an egg at the bottom of the bowl. Apparently that was a very important feature of the dish.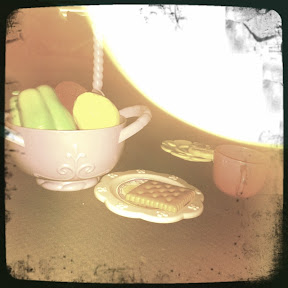 Also apparently a large ghost decided to jump in the side of the picture as my hipstamatic was capturing my plastic food spread. Jerky ghost ruined the picture and she had cleared my
couch
table before I had time to notice.
She also gave me a royal scepter (while dressed as Belle) that had the princesses on each side. When you turned the heart gem it made a sound specific to the princess. She told me this is how I would call for what princess I wanted. Unfortunately for her, before she had even returned to her kitchen Layla had the scepter and was calling for Ariel. And in Ariel came. She was going to learn how to do some quick costume changes in the next few minutes.
We haven't been out and about much this week so I asked if they wanted to go somewhere.
"yeah let's go to Disney World" shouted a delusional Ella.
As if it was that easy. Of course we would be there nearly daily if it was!!!
It's just nice to not have anything on the schedule (even if I need to) and pretend Saturdays are something different here too.
- Posted using BlogPress from my iPhone