I'm in the midst of crazy stressful dining planning for my Disney trip. We just booked this week and I only have 12 days before the 180 day mark to make ADRs (advanced dining resevations) . Crazy you say?
No. Not when you go when Disney is offering the free dining plan.
While other times you may be able to mosey on up to any kind hostess and be given a wait time for a walk in, if you do this during free dining you're going to get laughed at by the same hostess and by all the other smug guests waiting in the their seat they scheduled 6 months in advance.
You see, free dining means EVERYONE at the Resort hotels is offered the plan with the purchase of the magic your way package (room and tickets) so unless you are an annual pass holder or opt to use another discount you're eating free. This means
NO. SEATS. ANYWHERE.
And counter service restaurants where no reservations are accepted are like fight club. With babies. And a fixings bar.
Now why is this stressful? Well if only it were so easy to just pick where you want to eat 6 months from now- that alone is a task- I'm not sure what I want to eat tomorrow.
... Or for dinner tonight, I didn't thaw anything out.... I was making spreadsheets for meals 6 months from now.
"No kids idk what we are having for supper I can't figure that out I'm trying to figure out how in the name of Walt we are going to fit in a blasted Boma reservation to keep your dad happy! Eat a banana"
Not only do you have to know what foods sound good on the fourth Thursday of a month half a year away you have to figure out what park you will be in!
And no you can't just go magic kingdom epcot Hollywood magic animal kingdom magic.
No you can't because Wishes is only this night that night and maybe that night and the electro magic parade is only one night the week you're there- thank God coinciding with a Wishes fireworks night....
Oh and extra magic hours are at Hollywood on this day but oh so is Mickeys Not So Scary Halloween Party (MNSSHP) ... HOW DO I MAKE THIS ALL WORK?!?
(shell out an extra $300 for a park hopper and be done with it)
But if you're husband says "NO I hate Disney transportation we are not park hopping" you make grids and graphs and spreadsheets and scribble all over them.
-You plot out your week and mark down the park hours for each park.
-Then you note which parks have Extra Magic Hours (EMH)- hours only available to resort hotel guests - yippie .
-Then you note down all special events limited to certain nights - fireworks, parades, shows, parties...
-Cross reference all of them. Making sure to take advantage of all EMH and special events.
*That will give you the best day for each park.... Based on my system .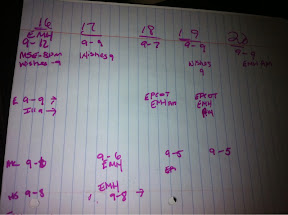 Some people say don't do EMH parks because they're busy. Those people are insane people who get up at the break of dawn and head to a park . I don't do that. EMH in the evening are a beautiful thing allowing us to ride everything in a few hours with no wait.
You've pinpointed what days you will be where now to figure out restaurants by reading tons of reviews realizing some people think they're the Queen of Disney and no food would ever be good enough for them.
Check out this
site
for reviews based on the best eateries for kids.it's Disney though so anywhere will accommodate your little
monsters
darlings. Even the nicest places have Mac and cheese and chicken nuggets. Boma the African buffet has a Childs buffet full of American junk food for picky kids.
After you decide what places sound best while making sure to pick the best character restaurants you have to decide when to dine where!
-Plop them on your grid based on proximity to the park you're in that day.
* Remember if they are in the park instead of a hotel you will need park admission.
-Doodle Mickey heads while husband puts in his two cents (you're planning this not him but humor him so he doesn't argue against your plan out of spite and feeling left out... But he has no clue how involved this really is )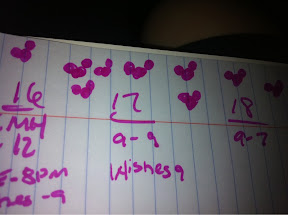 By now you should have at least most of your meals planned. I always end up tweaking it for weeks changing and canceling them up until a few weeks before for the less popular restaurants. Or cancelling extra reservations on the bus to Magic Kingdom... Yes I ended up double booked a couple days :p see you need to call early for reservations because there are a lot of selfish indecisive planners out there double booking days ... Don't judge me.
- Sit back, breathe and put the pen down! There are too Many choices and not enough days!
Now technically not all restaurants have to be picked this early and if you're very flexible on times even less need to be. But there is so much to do at Disney and if you don't take that into account early you will miss a lot due to poor planning.
Restaurants that need to be booked far in advance:
-1900 Park Faire- character meal with Cinderella and her step family at Grand Floridian.
This has become hugely popular even harder to book than the castle meal.
-Ohana- Stitch, LILO and Mickey at the lovely Polynesian resort serve a family style breakfast and host games for the kids. The breakfast is very popular but there is also a non character dinner that I could not get an ADR for the life of me last year.
- Cinderella's Royal Table- breakfast, lunch and dinner inside the castle! It's the only way to go up into the castle unless you're some lucky jerk who wins a stay in the suite. It includes a picture with Cinderella. Breakfast and lunch are with princesses, dinner has a show with the fairy godmother and mice. It is two table service credits or many Many dollars.
Chef Mickeys at the Contemporary is a buffet meal with the Fab Five, it's kind of the quintessential character meal with Mkckey that everyone knows about so rather popular and should be booked asap. The food is good the characters are swell- can't go wrong.
Also, now if you are not on dining plan they make you pay the full price up front when reserving. Cinderella's table and a few other "signature " dining experiences. Ouch.
So what are you waiting for?! This is complex! head your browser to this
page
(it has a much better layout with all the show times etc and all park hours in one place unlike the official Disney site)
And start plotting out your vacation!
Free dining is now available for vacations most dates August 25- September 29! Check
here
for details. Rooms are limited and they're going fast! Some resorts are all booked out which is unusual this soon!
- Posted using BlogPress from my iPhone
Check out my Disney Travel
blog
for more Disney tips and hit my travel agent button in the sidebar for help planning your next getaway- my services are free paid by Mickey!