I had a skirt I had finished for Laci but was too small from when I began sewing last year. The girl who had made the tutorial did not have the measurements right. (and though she argued with me that she was right she sent out a correction to the pattern a month later....) I kept the skirt hating that I wasted all that fabric and realized recently how easy it would be to make some doll clothes from it. If I did skirts, the bottom seam would already be done for me.
So I got to cutting ...
They insisted strapless but I think it would be cuter with a strap...
I also made a green ruffle skirt but didnt get a picture. Pretty productive!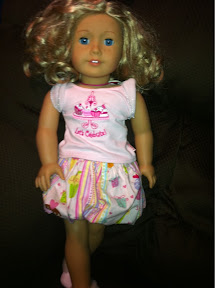 -obviously this isn't the same skirt and I didn't make it today. Ella wanted a birthday skirt for Izzy to wear to Chuck E Cheese extravaganza so I used left over fabric from Layla's birthday banner to make a festive bubble skirt.
Posted using BlogPress from my iPhone