I've Been going through clothes because well that's all I seem to do. I had weeded out a bunch that had a stain or were never getting worn and too small, but not liked well enough to save for the next kid. Its allotted me quite a bit of fabric to choose from to make clothes for the American girl dolls- on the cheap!
I have so much, in fact, I felt I better have this Make Something Monday be American Girl clothes to get rid of some it. So I got to cutting and sewing and ended up with these:
Fancy dress from a Liz Claiborne top of mine.
Complete with leg slit lol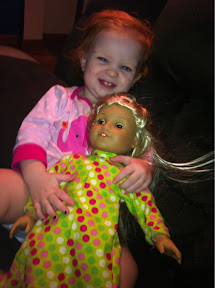 Nightgown from remnant bin fabric at JoAnns. Layla loves expensive dollies!
This is from a Carters Romper that was outgrown.
A toddler shirt turned into a fun summer dress. The girls like them strapless but I thought straps would have made it cuter. I love the color and it would go well with their Hawaiian Kanani dolls!
Posted using BlogPress from my iPhone